Marketing Automation 2018 Report: Do You Really Know What It Is?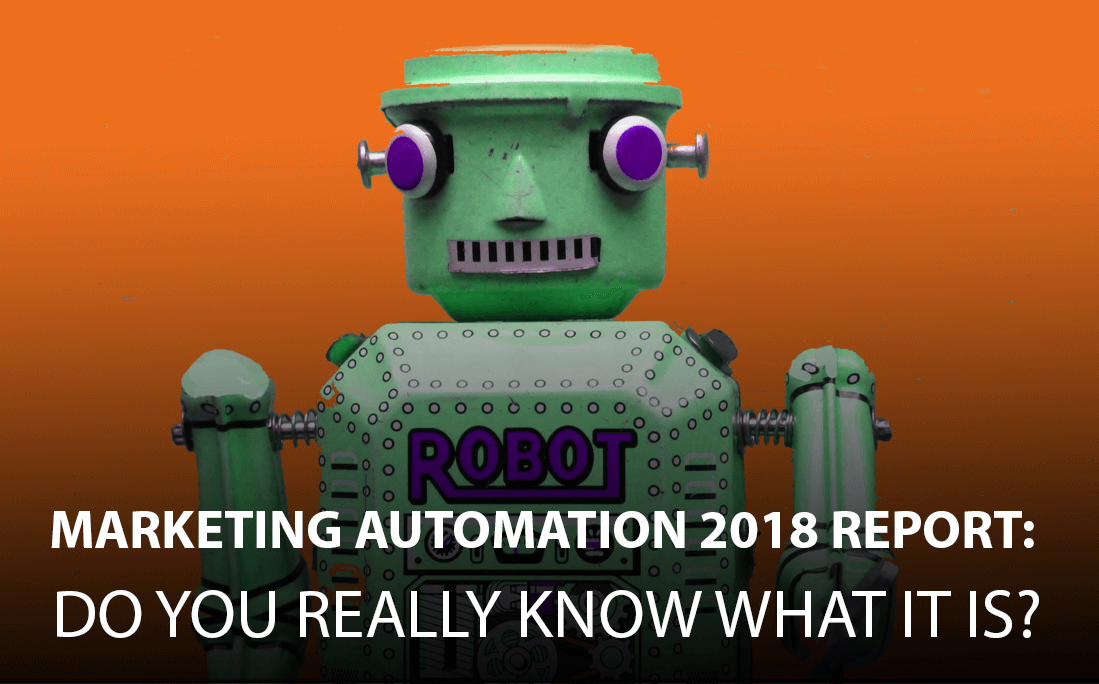 Have you heard of marketing automation? And if you have, can you define the term "marketing automation" clearly in your head? According to Liana Technologies (2017) the biggest barrier to marketing automation adoption is knowledge. To some this might be a surprising statement, especially with so many blog posts, webinars and resources out there on such topic. However as interest for marketing automation rises, it seems that actual adoption of marketing automation is at a halt. A report by Digital Capital Advisors (2015) found that in a survey of 220,000 small businesses (approx. annual revenue of £3 – £14 million), only 5% used marketing automation tools. This very statistic suggests the lag in adoption, particularly in small businesses. To solve this issue, we conducted a survey between the end of 2017 and early 2018 to uncover how much businesses really know about marketing automation and what is it about marketing automation that is so confusing. You can download our complete marketing automation 2018 report here.
Here is a sneak peak of what you can expect from our marketing automation 2018 report.
Some Common Objectives to marketing automation
It was interesting to discover that the biggest objection to marketing automation software was cheaper alternatives. And it's true there are so many plugins out there that you can add to your site to accomplish some of the simple tasks of marketing automation software.
But there is a major issue to using these plugins – They will not do everything. That means to accomplish the job of a all-in-one marketing automation software you'll probably need at least 20 third-party plugins on your site. Managing each one is not only time-consuming but in the long-term more costly than having one software. See our marketing automation software vs. plugin blog post for more details.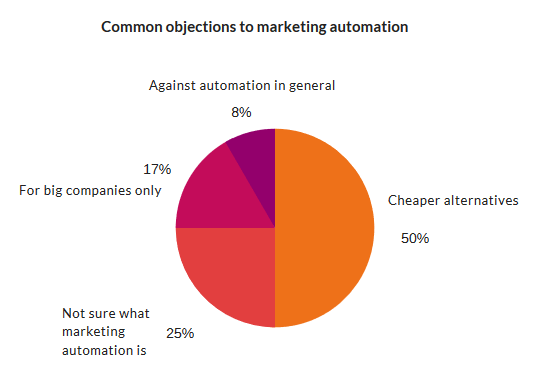 Most Used Marketing Automation Tools
We were so surprised to see that MailChimp was the most used marketing automation tool. Why surprised? Because based on the definition of marketing automation MailChimp is even a marketing automation tool. It is a email provider that now offers some free email automations in the form of welcome emails, cart abandonment and auto-replies. A true marketing automation accomplishes more than just automated emails. Just check out our MailChimp case study!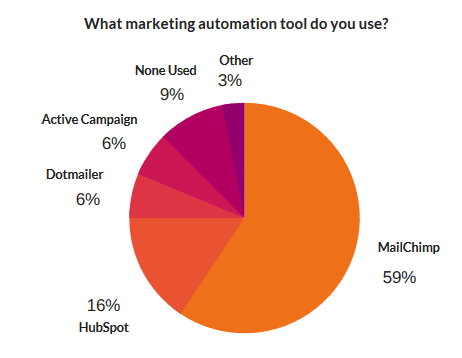 Download your FREE Marketing Automation 2018 Report