5 SIGNS YOU'RE NOT USING MARKETING AUTOMATION TO ITS FULL POTENTIAL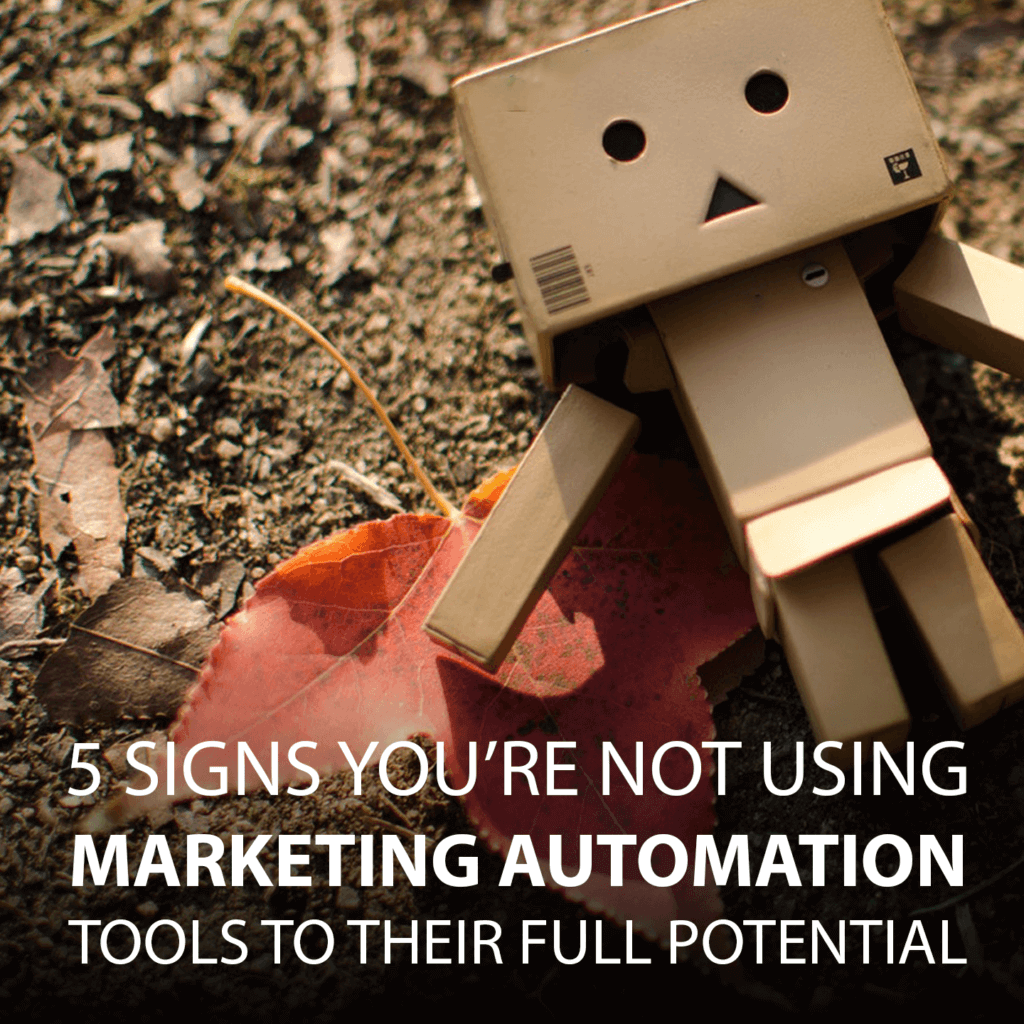 2017 has been the year of marketing automation tools. More companies than ever have realised the importance of marketing automation tools in their digital marketing strategy. In fact, 11 times more B2B businesses are using marketing automation now compared to 2011. Yet so many companies fail to experience the true benefits of marketing automation. Instead of saving time and creating customizable content, companies waste time doing repetitive tasks and blasting purposeless emails to their mailing lists with very little results. So how can you avoid wasting money on marketing automation tools and get the most out of them? Here are 5 signs that you're not using marketing automation to its full potential.
1. You don't have custom content for different customer segments
Marketing automation is all about creating personalised content for your target audience. How can you offer your customers real value if you're sending them the same generic content as every other customer? If you are struggling to create custom content, you could try offering your site visitor something free to download and ask some relevant questions before they can download the item. This will help you understand which type of content they would prefer getting.
2. You're still relying on repetitive tasks
The goal of marketing automation is to create less work for you. Not more! If you find yourself fiddling around with spreadsheets, this is a sign that you're not using marketing automation to its full potential. You should be able to minimize repetitive tasks by integrating your tool with your email, CRM, social media platform and content management system. Getting your integration right could be the key to saving time and improving productivity.
3. You are limiting marketing automation to emails only
Did you know that 95% use marketing automation tools for email marketing, while only 35% use it for content optimisation? This stat alone shows the common misconception that businesses have of marketing automation. Marketing automation is more than just for email marketing. It can relate to several areas such as social media marketing, CRM, PPC and much more. Make sure you are exploring your marketing automation tool to see its full potential.
4. Your campaigns are not evergreen
While you can create personalised seasonal content for your customer segments, but it's best to keep your campaigns evergreen. This is where you really see the full potential of marketing automation tools. Try to create general campaigns for each of your buyer persona's so you can guarantee them getting personalised content. We also advise you to have a general campaign in place at each stage of the sales funnel. This way you can nurture your customers all the way from awareness to purchasing.
5. You're still not seeing any improvement in conversion rates
If you have been using marketing automation for a while and still have not seen any improvements in your conversion rates. You need to ask yourself why. Do you know the answer to why there have been no improvements? If not, then this indicates that you have failed to measure your campaigns and make adjustments to them over time. It is vital to utilise lead scoring and segmentation to create effective contact lists. And that you periodically evaluate the content that is going out to your customers.
Are you using marketing automation to its full potential?
Noone said marketing automation is easy. It takes a little practice and experimenting to get right, just like with any other marketing activity. But if you can use marketing automation to its full potential, it will save you time, money and generate leads. Does your company use marketing automation tools? Let us know your marketing automation stories and missteps in the comments below!
If you are struggling to understand marketing automation, book a 30 minute call with our marketing director consultant.